James And Joyce Robertson Case Study
James Robertson and Joyce Robertson (1971) Young children in brief separation: a fresh look Psychoanalytic Study of the Child 26: 264-315
During the 1950s James Robertson had used a 16mm hand-held movie camera to study the reactions of young children to hospital admissions. In the 1960s he and his wife, Joyce, embarked on an ambitious programme to record the normal reactions of children to separation. During the Second World War the effects of separation had been little understood and the first attempts to do so were undertaken by people like Clare Britton who had been dealing with the difficult behaviour of evacuated children (Winnicott and Britton, 1957) .
However, in these situations the normal behaviour of children can be overlaid by many other factors. James and Joyce Robertson wanted to study the impact of separation on children where these factors were reduced to a minimum, in much the same way as Fanshel and Shinn (1978) sought to do in their much longer study. They had previously been approved as short term foster parents and for this study they fostered four children, Kate, Thomas, Jane and Lucy, aged between 18 months and two and a half years old, whose mothers were going into hospital for the birth of a second child and who had no other family member able to care for them during their mother's hospitalisation. Joyce Robertson recorded their behaviour and James Robertson filmed them along with a fifth child, John, who was admitted to a residential nursery in similar circumstances.
Key Findings
Young children separated from their mothers experience a range of emotions including sadness and aggression.
The provision of a positive caring environment can mitigate almost all adverse reactions to separation.
The provision of alternative care can provide the stimulus to new relationships.
Contents
The authors begin by pointing out that virtually all the theoretical material on early separation from mother had been based on institutional studies. For the foster placements Joyce Robertson met the parents and learned enough about the ways the parents cared for their children to be able to replicate this in the foster home; on each placement, as well as familiar items, the children brought photographs of their mothers and their fathers visited regularly, often daily, throughout the placement. John's residential nursery placement had been arranged by the family's GP and there was no comparable introduction to the placement.
During the placements Joyce Robertson kept a pad on which to make contemporaneous notes and also made use of a tape recorder while James Robertson filmed each child for around twenty minutes each day. In the nursery Joyce Robertson wore the same uniform as the other staff and assisted in background tasks but did not get directly involved in caring for John.
In the Case Histories, the experiences of the five children are summarised. In all cases there was an initial adaptation to the new environment followed by periods of grief, anger and, in the case of the foster children, oscillating emotions between the foster mother and their own mother. They adapted to the foster home and three of them expressed their feelings about the separation in difficult behaviour towards their parents on their return home. In John's case his behaviour difficulties were much more severe and prolonged on his return home and the long term residue of his experience was a fear of separation from his mother and bouts of aggression against his mother.
However, Lucy responded slightly differently. By the time the study was drawing to a close, the practice of fostering first children while their mothers went into hospital for their second child had declined and the Robertsons were not able to foster a child with an impeccable history. There had been a strain in the relationship between Lucy and her mother and she was undemonstrative on separation from her mother. Though she went though the same gamut of reactions as the other foster children, she responded much more positively to the foster mother and, when her mother came to collect her, responded immediately and positively to her mother.
[ad#tcj-bottom-1]
In The Influence of Variables, the authors pick out the maturity of the child, the previous parent-child relationship and the length of separation as crucial factors. The two older foster children had been able to sustain memories of their mothers in a way the younger ones had not and had less overall difficulty in re-establishing the relationship. The three children with a good relationship with their parents sought to maintain those standards while Lucy abandoned them and eventually worked out a relationship with the foster mother. Even though two of the stays had been lengthened by complications, in none of them did acute distress or despair occur or any rejection of mother at the end of the placement.
The authors conclude that insufficient attention had been given in the literature to the impact of a strange environment and inadequate substitute mothering on the reactions of children separated from their mothers.
In the Discussion, the authors note that the first few days in foster care were marked by increased laughter and activity which was followed by a period in which sadness, lower frustration tolerance and aggression were observed but this did not reach the level of despair and all four children continued to relate well and to learn new skills. All four foster children had expressed some hostility to their mothers on their return home but, in Lucy's case, the positive experience of fostering also enabled her to make a much better relationship with her mother thereafter. The factors in the environment and in the child which are likely to increase/decrease the level of stress are set out in a chart.
In the Summary, the authors argue that Bowlby had overgeneralised James Robertson's earlier findings about the responses of children in institutional settings to all settings; they conclude:
Our findings do not support Bowlby's generalisations about the responses of young children to separation from the mother per se, nor do they support his theory on grief and mourning in infancy and early childhood. … but we continue to share his concern about the potential harm associated with early separation from the mother (1971, p. 313).
Discussion
There was considerable anger against the Robertsons from professionals at the time for allowing John's inadequate care to continue but that would have ruined the research and would have done nothing for all the other children in the nursery who were suffering in much the same way. Though John's separation did create some long term problems, these were not as serious as those of most children in need.
The level of family contact which the Robertsons had was unusual for the time but had been identified as a feature of quality foster care by Trasler (1960) and was later to be identified as key by Fanshel and Shinn (1978). Similarly, their individualising of care for the children had been identified as associated with quality outcomes by Trotzkey (1930). Indeed, they support Trotzkey's conclusion that it is not where a child is cared for but who is caring for them and how that are most important.
The Robertsons were able to eliminate a range of factors known to have adverse impacts on children in order to study children's reactions to maternal separation relatively uncontaminated by other factors – and they came up with rather different conclusions from those who had not taken such precautions in their research.
Perhaps more importantly, they show what reactions to separation carers should expect. Unfortunately, if someone in extra-familial care happens to have long-standing emotional or behavioural difficulties, it can be all too common for those caring for them to dismiss their normal reactions to separation as part of their 'disturbance' rather than seeing them as normal reactions and treating them appropriately.
However, the Robertsons' accidental finding in relation to Lucy, that a strained relationship with one carer can be healed through a positive relationship with another, shows that good extra-familial care can provide a positive model of attachment for those who have temporarily lost sight of it. This is somewhat different from finding a secure attachment for the first time (Tizard, 1977; O'Neill, 1981) and may go some way to accounting for the success of Homer Lane (Bazeley, 1928), August Aichhorn (1951) and Mr Lyward (Burn, 1956) who all maintained family contact.
References
Aichhorn, A (1951) Wayward youth London: Imago First published 1925 Verwahrloster Jugend Wien: Internationaler Psychoanalytischer Verlag
Bazeley, E T (1928) Homer Lane and the Little Commonwealth London: Allen & Unwin See also Children Webmag February 2009
Burn, M (1956) Mr Lyward's answer London: Hamish Hamilton See also Children Webmag May 2009
Fanshel, D and Shinn, E B (1978) Children in foster care: a longitudinal investigation Guildford: Columbia University Press See also Children Webmag March 2009
O'Neill, T (1981) A place called Hope: caring for children in distress Oxford: Blackwell See also Children Webmag May 2009
Robertson, J and Robertson, J (1971) Young children in brief separation: a fresh look Psychoanalytic Study of the Child 26, 264-315
Tizard, B (1977) Adoption: a second chance London: Open Books
Trasler, G (1960) In place of parents: a study of foster care London: Routledge & Kegan Paul
Trotzkey, E L (1930) Institutional care and placing-out; the place of each in the care of dependent children Chicago: The Marks Nathan Jewish Orphan Home See also Children Webmag November 2008
Winnicott, D W and Britton, C (1957) Residential management as treatment for difficult children In D W Winnicott (Ed.) The child and the outside world: studies in developing relationships Chapter II:6, pp. 98-116 London: Tavistock
[ad#tcj-bottom-1]
Categories Child Care History and Policy
A TWO YEAR-OLD GOES TO HOSPITAL
by JAMES ROBERTSON
A Scientific Film (1952) Robertson Films Home Page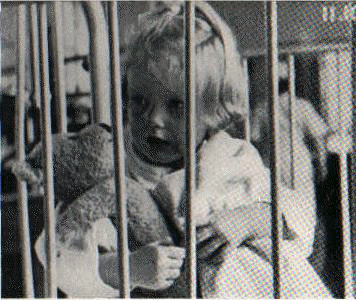 A Two Year-Old Goes To Hospital

Classic film showing the suffering of a little girl in hospital separated from her mother
.A vivid study of the problem of admitting to hospital a child who is too young to be effectively prepared for the experience or to be made contented in the absence of her mother. This film has been designated "of national and historic importance" and a copy is being preserved in the National Archives.
If going to hospital means losing the care of the mother, the young child will fret for her -- no matter how kind the doctors, nurses, and play ladies. This film classic, made in 1952, drew attention to the plight of young patients at a time when visiting by parents was severely restricted.
Laura, aged 2, is in hospital for 8 days to have a minor operation. She is too young to understand her mother's absence. Because her mother is not there and the nurses change frequently, she has to face the fears, frights and hurts with no familiar person to cling to. She is extremely upset by a rectal anaesthetic. Then she becomes quiet and "settles". But at the end of her stay she is withdrawn from her mother, shaken in her trust.
In recent years there have been great changes in children's wards, partly brought about by this film. But many young children still go to hospital without the mother, and despite the play ladies and volunteers the depth of their distress and the risks to later mental health remain an insufficiently recognised problem.
This film study of typical emotional deterioration in an unaccompanied young patient, and of the subtle ways in which she shows or conceals deep feelings of distress, remains as vivid and relevant as when it was made.
"The restraint and objectivity of the film may at first re­assure, for the child is unusually composed for her age, but few nurses will doubt the degree of her distress, the signs of which they have so often felt powerless to relieve."—NursingTimes. ". . . explodes the belief that a 'good' child is well­-adjusted."—Nursing Outlook. Though the standard of care in the hospital was high she undoubtedly fretted." -British Medical Journal. ". . . convincing and brilliant demonstration ad oculos of the outward manifestations of the inner processes that occur in infants who find themselves unexpec­tedly and traumatically without their families."—Anna Freud, LL.D., International Journal of Psychoanalysis."...a connected and credible demonstration of stress, separation anxiety, early defensive manoeuvres, and topics akin. .also a social document of honest power. Without preaching, it bears a message of reform. . ."—Contemporary Psychology.
Admitting the mother to help in his care makes hospital a much happier place for the young child. It is also a positive measure of preventative mental health.
Separation from the mother can be traumatic and may leave long lasting and possibly permanent emotional disturbances. The presence of the mother disposes of that danger.
Her presence also helps to prevent anxieties arising from illness, pain, investigation and operation from becoming cumulatively overwhelming.
Background reading:
Young Children in Hospital, 3rd Edn., LondonJames Robertson,
Separation and the Very Young, 1989 James and Joyce Robertson
(See also the complementary film "Going to Hospital With Mother".)
Click here for DVD Sales