First Person Vs Third Person Essays
 A Definitive Guide to Using Perspective in Academic, Business, and Fiction
Is it OK to use first person (I/my/we/our) in a research paper or job application? Is all formal writing done in third person (he/she/they/one)? Why does the teacher keep crossing out second person (you/your) in student essays?
The issue here is perspective. First person is direct and personal. Second person is aimed at the audience, as in advertising ("You should buy this car now!"), or is quite informal, as in e-mails to a friend ("So, you know how it is when you don't have any money?"). Third person doesn't target anyone, and so it's the most distant and universal.
It's pretty easy to avoid second person in formal writing, so the main source of confusion comes from whether to use first or third person.
 Academic Writing
The battle between first and third, at least in academia, stems from the tradition to favor third person in formal writing because it was considered more modest, professional, and (above all) objective. Scientists thought it was better to favor the research, not the researcher, so "I conducted a study on" was changed to "the researcher conducted a study on."
This business of having to use third person, however, can result in imprecise language and, worse, ambiguity. Most academic styles now recommend first person, with APA leading the way.
Take the following:
"A study was conducted on animals. The researchers utilized a longitudinal study. This paper will examine the mating habits of the fennec fox."
What at first seems like a nice formal start to a paper is actually quite ambiguous. Regarding the first sentence: what study? Conducted by whom? This passive voice is too imprecise.
The second sentence uses third person, but if your paper is talking about other studies and sources, then you might confuse your reader. Is this your term you're talking about, or one of the past researchers?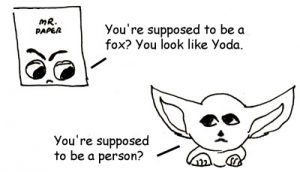 The third sentence turns the paper into the researcher. A paper cannot examine. It's not alive. Only you, the writer, can examine anything. In this situation, the truly clear sentence is, "In this paper, I will examine . . ."
For these reasons and more, first person is now more often being recommended. Of the "big three" (APA, Chicago, MLA) style guides, APA urges first person. The Chicago Manual of Style is also in favor and says under 5.220 (16th ed.), "When you need the first-person singular, use it. It's not immodest to use it; it's superstitious not to."
MLA (used for the humanities) has skirted the issue, but seems to prefer the formality of third person. It doesn't like self-aware statements like, "I am going to say in this paper..." However, as long as the instructor or client does not mind, MLA finds first person acceptable when necessary.
 Fiction
The question of what perspective to use in a story or novel is a personal one. There are no rules. Generally, writers are recommended to use third person when they're just starting out because it's a bit easier to get right. With third person, you can write in a detached, generic way, and when you write fiction in first person, it's exceedingly real and present. Everyone has a different (and distinct) personality, and that personality leaps out when you write in first. In first person, little mistakes and breaks in personality really stand out for the reader.
It is not accepted in mainstream fiction to mix first person and third person.
Don't write fiction in second person. Please.
 Autobiographies/Nonfiction
Use first person for such situations as autobiographies (unless you're Donald Trump), but for most non-fiction work, it's best to stay detached. Use third person.
 Journalism
AP style for journalism and marketing is strict about not using first person to refer to oneself. Stick to third, try to avoid pronouns, and reserve first person for direct quotes in interviews.
 Resumes
Don't refer to yourself in the third person in resumes. Just as in life (unless you're Trump) you wouldn't say, "John develops synergistic platitudes," when you're John. In a resume, just assume the first person is understood. Under current job duties, say "Develop synergetic programs," not "Develops."
Business
With business, there are no hard and fast rules. Gear your writing to your purpose and what level of formality you think is appropriate. Perspective can increase and decrease that level. For example, look at this formal sentence:
"Microsoft is looking to expand into new areas. It aims to attract talented new people."
Formally, organizations use "it," not "they" or "we."
However, some people might say that looks too stiff, so look at this more easy-going and personal version:
"Microsoft is looking to expand into new areas. We are looking to attract talented new people."
Second person can also be useful in business writing, especially when giving orders or advice:
"Microsoft is looking to expand into new areas. Be sure to attract talented new people."
Just remember that choosing your person-perspective has real consequences. Be careful, and good luck.
 Nick S.
Save
Many times, high school students are told not to use first person ("I," "we," "my," "us," and so forth) in their essays. As a college student, you should realize that this is a rule that can and should be broken—at the right time, of course.
By now, you've probably written a personal essay, memoir, or narrative that used first person. After all, how could you write a personal essay about yourself, for instance, without using the dreaded "I" word?
However, academic essays differ from personal essays; they are typically researched and use a formal tone. Because of these differences, when students write an academic essay, they quickly shy away from first person because of what they have been told in high school or because they believe that first person feels too informal for an intellectual, researched text. Yet while first person can definitely be overused in academic essays (which is likely why your teachers tell you not to use it), there are moments in a paper when it is not only appropriate, but it is actually effective and/or persuasive to use first person. The following are a few instances in which it is appropriate to use first person in an academic essay:
Including a personal anecdote: You have more than likely been told that you need a strong "hook" to draw your readers in during an introduction. Sometimes, the best hook is a personal anecdote, or a short amusing story about yourself. In this situation, it would seem unnatural not to use first-person pronouns such as "I" and "myself." Your readers will appreciate the personal touch and will want to keep reading! (For more information about incorporating personal anecdotes into your writing, see "Employing Narrative in an Essay.")


Establishing your credibility (ethos): Ethos is a term stemming back to Ancient Greece that essentially means "character" in the sense of trustworthiness or credibility. A writer can establish her ethos by convincing the reader that she is trustworthy source. Oftentimes, the best way to do that is to get personal—tell the reader a little bit about yourself. (For more information about ethos, see "Ethos.")

For instance, let's say you are writing an essay arguing that dance is a sport. Using the occasional personal pronoun to let your audience know that you, in fact, are a classically trained dancer—and have the muscles and scars to prove it—goes a long way in establishing your credibility and proving your argument. And this use of first person will not distract or annoy your readers because it is purposeful.


Clarifying passive constructions: Often, when writers try to avoid using first person in essays, they end up creating confusing, passive sentences.

For instance, let's say I am writing an essay about different word processing technologies, and I want to make the point that I am using Microsoft Word to write this essay. If I tried to avoid first-person pronouns, my sentence might read: "Right now, this essay is being written in Microsoft Word." While this sentence is not wrong, it is what we call passive—the subject of the sentence is being acted upon because there is no one performing the action. To most people, this sentence sounds better: "Right now, I am writing this essay in Microsoft Word." Do you see the difference? In this case, using first person makes your writing clearer.


Stating your position in relation to others: Sometimes, especially in an argumentative essay, it is necessary to state your opinion on the topic. Readers want to know where you stand, and it is sometimes helpful to assert yourself by putting your own opinions into the essay. You can imagine the passive sentences (see above) that might occur if you try to state your argument without using the word "I." The key here is to use first person sparingly. Use personal pronouns enough to get your point across clearly without inundating your readers with this language.
Now, the above list is certainly not exhaustive. The best thing to do is to use your good judgment, and you can always check with your instructor if you are unsure of his or her perspective on the issue. Ultimately, if you feel that using first person has a purpose or will have a strategic effect on your audience, then it is probably fine to use first-person pronouns. Just be sure not to overuse this language, at the risk of sounding narcissistic, self-centered, or unaware of others' opinions on a topic.
See also:
The First Person
Use the First Person